Event: Lev Ditt Bästa Liv
A Webinar about the challenges and advantages of working from rural communities.
Register for event: Lev Ditt Bästa Liv with Magdalena Pfaffl
Lev Ditt Bästa Liv: Remote Work och att Flytta Till Landet
A Webinar about the challenges and advantages of working from rural communities.
An inspiration to take the step and live where you thrive. The future of work is actually the future of life.
Speakers:
dr Magdalena Pfaffl
Carl Wilhelm Hagander
Event: Lev Ditt Bästa Liv
Remote Work makes it possible to live and work at different physical locations. This allows people to live where they thrive, and, at scale, this is a major driver behind the stream of young professionals to rural communities.
With professionals choosing to live outside of city centres, rural communitites that have been in decline for decades are revitalized.
This offers great possibilities for:
Individuals who can reduce costs of living
Communities that see organic growth
Societies as decentralization reduces strain on hubs
The Environment as more local production is possible
Companies as they can keep a healthier workforce close
This webinar will cover the possibilities and advantages of working from rural communities while avoiding some common pitfalls.
Speakers Magdalena Pfaffl and Carl Wilhelm Hagander will share their research, work, and personal experiences to inspire you to make the move to a rural community close to your heart.
The webinar will be held in Swedish and is specifically for our Swedish audience.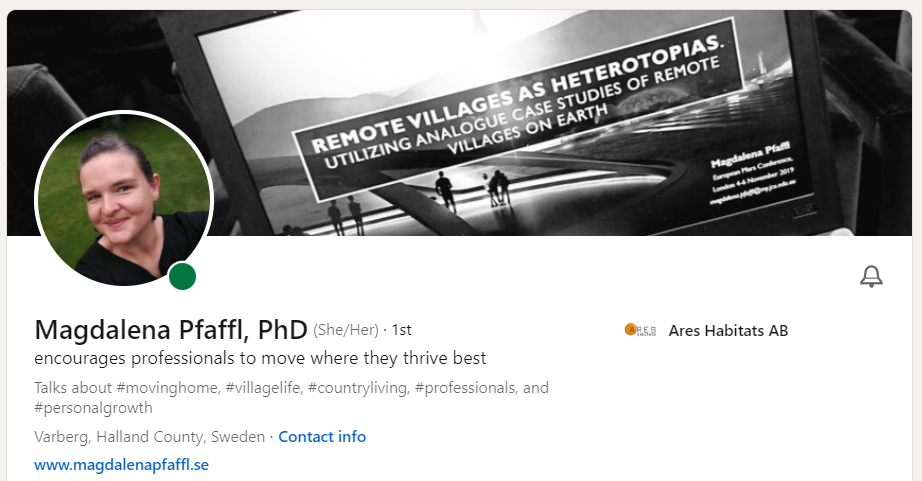 CEO of Ares Habitat
encourages professionals to move where they thrive best
Ares Habitats grundare, Magdalena Pfaffl doktorerade efter fem års forskning om glesbygden i Sverige, Israel och Australien. Hon fascineras av glesbygdens mångfalden och den stora potential som uppstår när folk hittar ihop och hittar en gemensam drivkraft. Magdalena grundade Ares för att resultaten av hennes forskning skulle nå ut och komma till användning.
Co-Founder of ReSocialize
Better Remote – Helping Companies leverage the advantages of remote work
ReSocialize grundades för att minska den isolering många som arbetar remote känner. Genom en virtuell miljö kan bolag och människor känna en närhet till sitt arbete och sina kollegor oavsett var i landet de är. Att använda ReSocialize är som att dela ett rum utan att fysiskt behöva vara på samma plats. ReSocialize är ett verktyg för såväl bolag som frilansare och digitala nomader – alla som vill leva och arbeta på olika platser.